Datadobi's software comes with a lot more than meets the eye. 
The Vendor-Neutral Unstructured Data Mobility Engine
Both DobiMigrate and DobiProtect were built on Datadobi's vendor-neutral unstructured data mobility engine. Below we'll dive into the components of the engine, visualized here: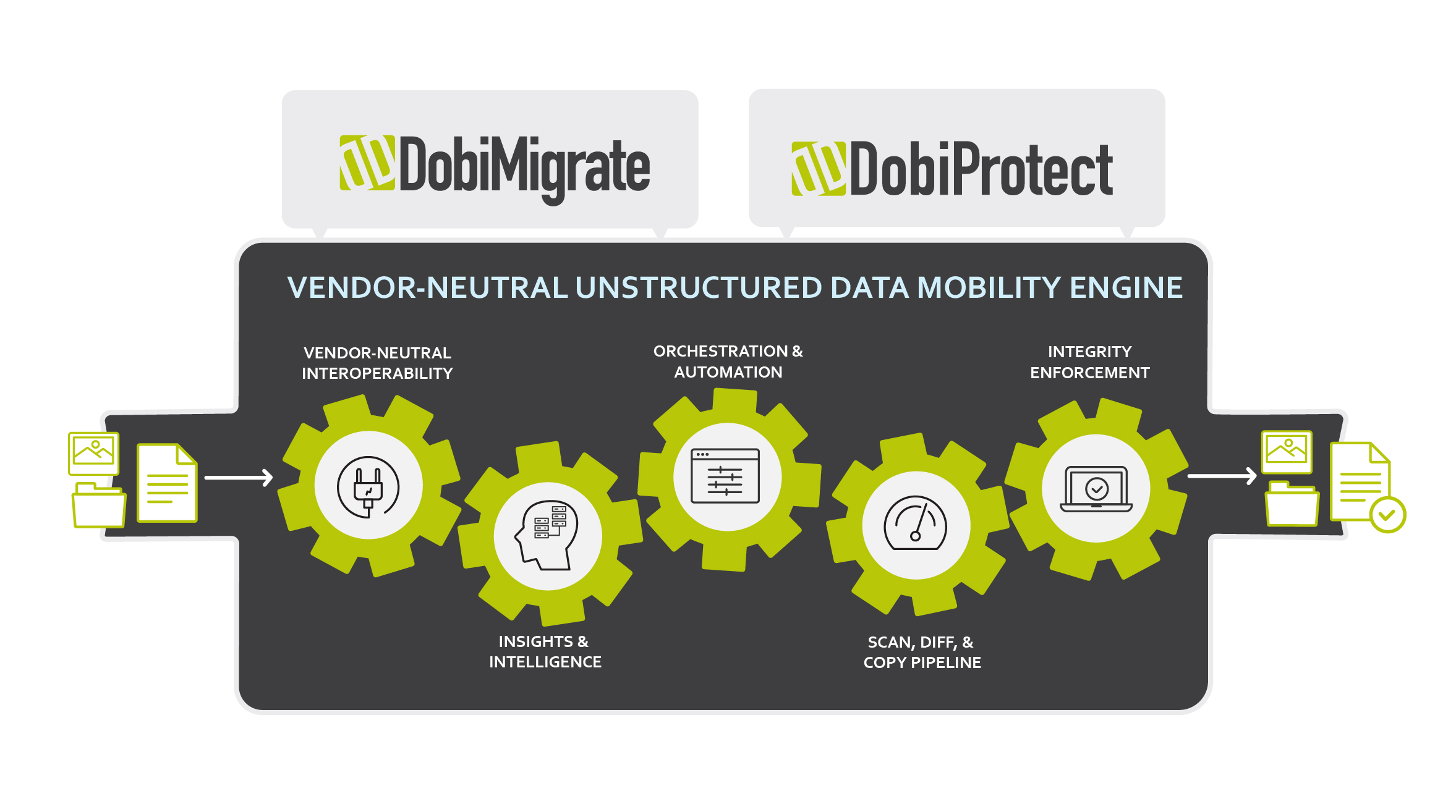 Vendor-Neutral Interoperability 
In order to move data to the most ideal place, it requires the ability to work with any storage vendor or cloud platform. Datadobi is the only truly vendor-neutral solution on the market. Our team works with any NAS or object storage device. There is no vendor lock-in and we eliminate the need to worry about whether it can be transferred or not. 
Insights & Intelligence
In order to determine whether data should be moved to an all-flash device or to an archive, Datadobi provides insights to enable IT administrators to make a better choice in where data lives. For example, if data hasn't been accessed in over seven years, the organization may not need that to live on all-flash disks. A better choice might include an S3 bucket or an archive tier NAS. This enables enterprises to keep data, but maintain low storage costs. Decisions like these can be made via a policy-driven engine or manual intervention. 
Orchestration & Automation
With countless files and seemingly endless capacity, it is hard to get data moved even if an IT team knows exactly where it needs to go. Datadobi's enterprise class software fortunately enables organizations to define automated policies on how to handle data. Our software can automate every job we have and optimize and execute policies better and faster than incumbent solutions on the market. With our vendor-neutral unstructured data mobility engine as the foundation of our product suite, we can scan, analyze, move, and make suggestions on data in any storage environment. 
Scan, Diff, & Copy Pipeline
Datadobi has the ability to use data analytics to intelligently scan both the source and target with up to 512 threads. The orchestration and analytics layer to the unstructured data mobility engine quickly determines the difference between the source and the targets. Then, Datadobi executes copying the difference to make sure data ends up exactly where it needs to be. 
Integrity Enforcement 
Automation is an integral part of Datadobi's solutions because it significantly reduces the chances for human errors. Data integrity is one of Datadobi's most important values. Putting the proper protocols in place is key to maintaining data integrity throughout the unstructured data management process. 
Datadobi recently achieved KPMG's SOC2 Type 1 attestation for DobiMigrate. The attestation is validation of Datadobi's commitment to data integrity, data security, and fast and successful data management projects. 
There are several features baked into our software to uphold file integrity — one of the most important being our patent-pending chain of custody technology. As soon as Datadobi's software reads a file from the source, it makes a hash of it and writes it to the destination. Post-migration, replication, or sync we compare the source and target to make sure the file was copied as it was read.  This avoids any potential for corrupted files and double checks that the target hasn't been modified between writes. 
Don't Settle for Subpar Data Management Software 
Datadobi does a lot more than move files from point A to point B. In order to manage unstructured data in today's data-driven world, it is important that enterprises are equipped with the right nuts and bolts at the solution's core. 
Learn more about Datadobi's vendor-neutral unstructured data mobility engine.