The engine will support Datadobi's roadmap of new features that will reshape the unstructured data management market 
LEUVEN, Belgium, July 27, 2021 – Datadobi, a global leader in unstructured data management software, today announced the launch of the only truly vendor-neutral unstructured data mobility engine designed to handle the scale and complexity of the world's largest storage environments. Version 5.12 (v5.12) unifies the most sophisticated and field-hardened capabilities and techniques to deliver the data mobility required for sophisticated, vendor-neutral, and scalable unstructured data management solutions. 
The 5.12 release establishes the step over threshold from Datadobi's powerful data migration and protection solutions DobiMigrate and DobiProtect to the fully-fledged data mobility engine through the release of key components essential for enterprises looking to effectively manage unstructured data.
First, by reimplementing the file access layer from the ground up, the NFS and SMB file access layers in the engine have been architected for data copying and filesystem integrity verification in data center and cloud environments where storage systems from multiple vendors reside. Low-level optimizations in the NFS and SMB stack allow for highly efficient data and metadata processing in such a vendor-neutral environment by smart pipelining of the protocol communication, and by parallelizing the file access workloads over multiple servers. The speed of data copy and verification now achievable at the scale required by enterprises, puts the Datadobi engine far ahead of any other solution. 
Second, the engine's Integrity Enforcement Technology layer allows for a rich set of data and metadata integrity levels. The patent pending chain of custody technology allows detailed reasoning about the data and metadata semantic equality during a data copy job, thereby eliminating inter-vendor incompatibilities and vendor-specific behavior during multi-protocol migrations. This approach makes vendor-neutral data mobility more reliable, and greatly increases the data and metadata integrity preservation during the data move.
Datadobi's battle-hardened engine enables current and future customers and partners to effectively manage and take advantage of their ever-increasing amount of unstructured data across all file and object storage environments, both on-premises and in the cloud. Datadobi's two original products, DobiMigrate and DobiProtect, run on top of the engine and are managed via an enterprise GUI. The robust engine is the result of over a decade's experience and the deep knowledge that comes from being down in the trenches, running real-world complex enterprise-class migration projects. It combines the following five layers, each with its own set of unique features that complement each other: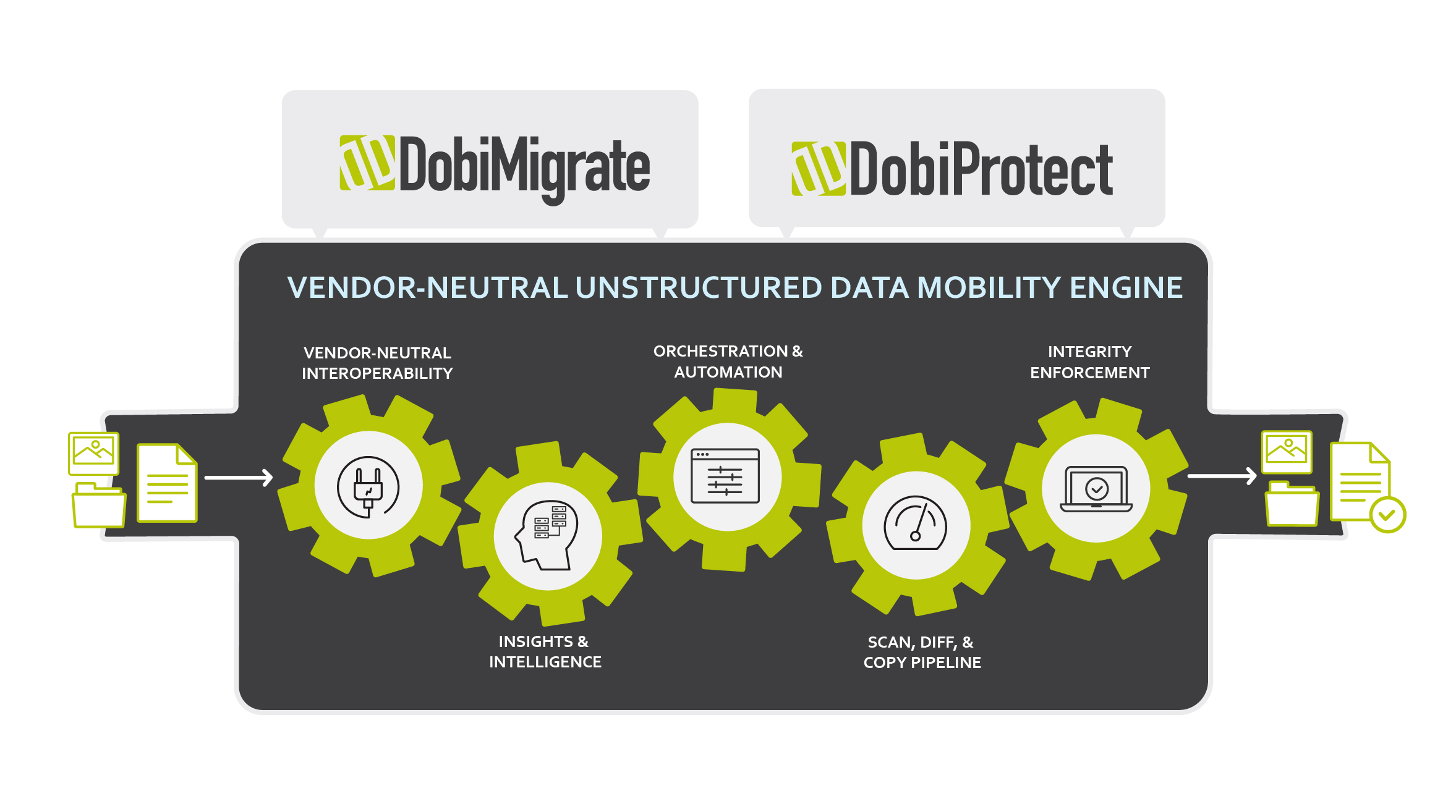 Vendor-Neutral Interoperability –

Enabling connectivity with all storage and cloud platforms allows organizations to gain more value from unstructured data on-premises and in the cloud. As most data mobility occurs between different storage products, often from different vendors, Datadobi's experience and best practices with vendor-neutral systems, coded in the engine, keep enterprises safe.
Insights and Intelligence –

Datadobi's scanning and reporting technology enables quick insights into the entire unstructured data lake. Enterprises can discover how their data is distributed over servers and cost centers.
Orchestration and Automation –

Users experience complete automation, enabling the data mobility and protection processes to be completed with integrity and as fast as possible. 
Scan, Diff, and Copy Pipeline – At the engine's core is the ability to enable the highest speeds attainable to execute and finalize a project as quickly and completely as physically possible.

Integrity Enforcement –

Datadobi's engine is designed to give customers the peace of mind that their data is safe. Mechanisms such as data verification, data readback, chain of custody, and fine-grained data and metadata integrity levels, allow for a reliable experience even in the most complex environments.
"The scale and complexity of unstructured data in today's heterogeneous storage environments have proven to be quite a challenge for organizations — and for good reason. Managing unstructured data, whether it be to reduce risk and cost or to make better use of the data, is a specialist activity. Simply taking existing structured data management applications and trying to make them run on vast amounts of unstructured data is a fool's errand," said Carl D'Halluin, CTO, Datadobi, "Datadobi's engine enables customers and partners alike to gain control of and utilize their unstructured data across environments on-premises and in the cloud. It gives customers the complete solution they are looking for in combination with their storage vendors, cloud providers, and application partners."  
"Unstructured data is continuously evolving. Organizations looking to harness the power of this data can no longer rely on vendors whose management tools become shelfware after a few months. In order to have the power to fluctuate between on-premise and cloud storage as needs arise, enterprise IT teams must have a data management tool with intelligence, security, orchestration, and automation," said Enrico Signoretti, Senior Data Storage Analyst, Gigaom. "The key capabilities in Datadobi's engine demonstrate a high-level of cross-vendor knowledge that is unique in the data management market. Customers can set up policies for how they want to manage data, and let the software do the heavy lifting to allow them to control their unstructured data regardless of location or vendor."
To learn more about and to purchase solutions leveraging Datadobi's engine for your organization, please visit www.datadobi.com.